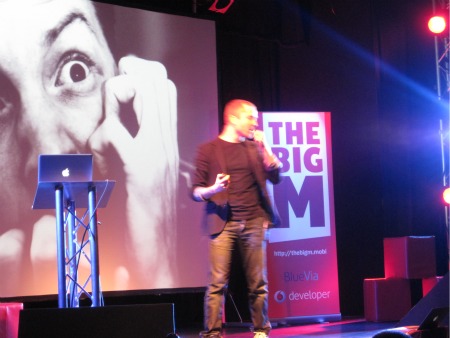 The Big M mobile conference took place in Komedia, Bath on Mon 21 March 2011. I attended and did some live blogging and tweeting. There has been lots of great content produced from the event which I have been curating here.
Posts
Vodafone Developer's post on The Big M - The Big M - event update
Doodles from the event by Chris day (aka wordbeard) plus the entire set
Nina Volstad provides her review in Norwegian and here is the Google translation into English
David Simpson's review of the event - The Big M conference in Bath
Adam Bird provides his review - The Big M went bold and got it so right
My posts:
UX at the Big M mobile conference
Paul Golding's keynote on future trends in mobile
Raam Thakrar on app distribution and monetisation
Open data discussion at the Big M
Edited tweet stream of Bruce Lawson talking HTML 5
Aral Balkan on 'Beyond usability on mobile'
Kelvin Gan reviews the event talks - The Big M conference - the talks
Kelvin reviews the event - The Big M conference - a review
Blue Via's event review - Event report: the Big M
Gicela Morales provides her thoughts - the Big M - #bigmconf
Jack Franklin on why no wi-fi was a good thing - The Big M conference - who needs wifi?
Audio boos
Ewen Macleod on mobile networks and innovation
Raam Thakrar on apps and monetisation
Presentations
Ewan Macleaod - Please, Mr Operator
Bruce Lawson - Web anywhere: Mobile Optimisation with HTML 5 CSS 3, Javascript
Raam Thakrar - App distribution and monetisation - the only things more important than the lines of code
Paul Golding - Future mobile innovations
Aggreagted and curated content
Summary of tweets from the conference
Links to content, speakers, attendees, presentations and more on the event Lanyard page
Topysy aggregation of the event
The Big M's aggregation of content - All done . . .
Images
Aggreagted pictures from the event on Flickr